FHLN Launches New Emergency Services Certificate Program
Credential Covers the Firefighter Health & Safety Basics and Can Be Earned Online
July 20, 2017 – EMMITSBURG, MD – The National Fallen Firefighters Foundation (NFFF) has debuted a new tool in its mission to prevent firefighter deaths and injuries. The Foundation's Fire Hero Learning Network (FHLN) now offers an
Emergency Services Risk Reduction Program Certificate
. FHLN and the ESRRP Certificate are free. The ESRRP Certificate is earned by completing four required online programs. Together, these programs deliver the core information that is the basis for prioritizing firefighter health and safety not only in every department, but in every firefighter's daily duties. The programs focus on practical, actionable information and best practices that every firefighter, firefighter/EMT, fire officer, fire chief, and safety officer can use immediately.
"We know that the leading causes of firefighter deaths and injuries in the line of duty are related to health and safety. The National Fallen Firefighters Foundation felt it was imperative that this free training be readily available for everyone to use," said Chief Ronald J. Siarnicki, Executive Director of the NFFF. The Foundation hopes that all members of the fire service, no matter their career or volunteer status or their rank, will embrace the ESRRP Certificate as essential training. "We've seen tremendous interest in this throughout the fire service, so we are confident this will help meet the demand for improving health and safety education and certification," remarked Siarnicki.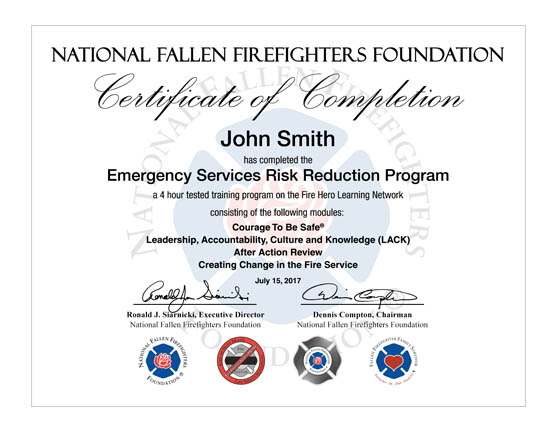 Many users will discover that they actually have already earned the certificate by previously completing the required online programs, or are very close to earning it. To check their certificate status, users should log into their FHLN account and expand the User Dashboard at the top of the page.
Making firefighter health and safety a priority starts with you. All members of the fire service are encouraged to complete the ESRRP Certificate to demonstrate their knowledge of fundamental firefighter health and safety concepts. Print your certificate and present it to your commanding officer so you can discuss how you might receive credit in your department for completing this training. Mention the certificate to your brothers and sisters in the fire service, and encourage them to check out FHLN and complete the programs to earn their own certificate. And, share the following link with your social network to make them aware of the certificate opportunity:
www.fireherolearningnetwork.com/Clusters/ESRRP.aspx
To learn more about the certificate and to complete a two-minute registration that allows you to access all FHLN programs for free, please visit FireHeroLearningNetwork.com.
News Archive